Yes, I know that playing golf is a challenge for many golfers. This gets even worse if you are trying to play a consistent shot to reach a specific distance under your radar. But, your irons are not responding enough and there could be so many reasons. You are looking to make things easier so you can achieve a significant distance by staying confident. And, we are here to help you out in this regard.
Of course, we aren't challenging your skillset as you must be doing a great job on regular days. However, one probable reason could be your irons that aren't forgiving enough. For that, you need some of the best forgiving golf irons. So you can strike exactly at your target hole without compromising on precision and consistency. Don't worry, we have got you the best solution.
Why do you need the Best Forgiving Irons?
There are millions of golfers just in the United States alone. Not everyone out of them can consistently get every shot they play. They couldn't hit their irons that well as there could be many reasons. This also includes picking the wrong or unmatched clubs for your game. Without the right irons, you won't be successful.
If playing shots seems difficult, you should get forgiving irons in your arsenal as this is what you need currently. Forgiving golf clubs are quite better and you can also call them sort of a game improvement irons to some extent. These irons normally feature an oversized clubhead that provides a reasonable sweet spot that extends the head of it, so you can get a leading head for a better ball flight.
Now, there are many so-called forgiving irons in the market, and picking them up would be a messy thing. If you get one for yourself, you would later regret it as they might not come with enough technology that would assist in making full contact with the ball. So, you need to be very focused in this regard. To make things easier, this guide will serve you the best forgiving golf irons that work best.
Related Content:
05 Best Forgiving Golf Irons At A Glance
IMAGE
PRODUCT
SHOP

Overall Best Forgiving Golf Iron

Callaway Golf Mavrik

Benefits: Easy to play & responsive, An optimal forgiveness, Robust & a lucrative feel, A Great spin & optimal launch

Shop Here

Irons for a better swing

TaylorMade SiM 2 Max OS Irons

Benefits: For a straighter ball flight, Consistent and a forgiving set, For a good distant coverage, Optimized & lightweight irons

Shop Here

The individual forgiving iron

Callaway Big Bertha B21 Iron

Benefits: A pretty Good iron at forgiving, Easy to launch and inexpensive, Straight & consistent ball flight, Distant coverage with precision

Shop Here

The Forgiving & lightweight set

Cobra Golf Speedzone Iron Set

Benefits: An exceptional build quality, Versatile and stable irons set, An enhanced ball speed & control, Best one for an Improved launching

Shop Here

Precise iron for better speed

Mizuno Golf JPX921 Hot Metal Irons

Benefits: Distant and forgiving irons, Reasonably better launches, Superior ball flights and precision, Nicely finished and durable irons

Shop Here
05 Most Forgiving Golf Irons | Our Best Picks & Review
Starting the list with Callaway as we have grabbed you with their flagship Mavrik that doesn't need an intro though. Anyhow, Callaway launched this set back in 2020 and it consists of up to 06 irons in the fleet. Callaway launched it both for left and right-hand golfers, so you aren't limited at all.
As per Callaway's claims, Mavrik is based on AI incorporation to make it an impactful set of irons. With this thing, the irons not just look great, they also perform great out there on the course. For that, they have optimized the club head of these irons pretty nicely. This also enhances its robustness and feel.
The best part of any forgiving clubhead is its launch that lets you decide whether or not this guy is meant for your style. For this specific most forgiving iron set, Callaway is using tungsten infusion to enhance the overall weight of its club head. It has slightly increased the weight, but it is still a pretty maneuverable set.
It comes incorporated with a face cup that is technically here to optimize the ball speed. The center of gravity is obviously on an offset and it provides you with an impressive trajectory and spins. It also provides a reasonable vibration absorption. All these things help in improving the forgiveness of this set.
Overall, these irons are built nicely and you won't see any manufacturing or design flaws in that. These things lead to providing precision while playing. Besides this, you will get both steel and graphite shafts in this irons set.
Pros
Easy to play & responsive
An optimal forgiveness
Robust & a lucrative feel
A Great spin & optimal launch
Cons
Distance could be a bit better
Taylormade is in the game with their impressive irons which belong to SIM MAX. These irons were launched back in 2021 and you are supposed to get up to 07 irons in this set which is a complete package for your casual practices. Taylormade has launched this set both for left and right-hand golfers.
TM is utilizing a Cap back design in these irons which is an improved version of cavity back irons. This clubhead comes with exceptional strength and feels which is the main reason for its deliverance. Taylormade incorporates steel materials into this so it would provide an impressive feel in your hands.
Even due to a durable clubhead, these irons still don't weigh a lot, as Taylormade has incorporated lightweight polymer in its construction. Along with the forgiveness, these irons are designed with a focus on speed, optimal ball flight upon launch, and decent consistency. These guys never disappoint at all.
Max OS is known for its oversized clubhead that is packed with an added sweet spot to enhance the overall forgiveness of these irons. This progressive yet inverted clubhead provides you with a better and optimal launching experience. Not just that, it also gives you an enhanced coverage that wasn't good at Mavrik.
Pros
For a straighter ball flight
Consistent and a forgiving set
For a good distant coverage
Optimized & lightweight irons
Cons
Lofts aren't quite impressive
Callaway with another iron on this list and this time we have grabbed you with Big Bertha and it is the only individual iron that is forgiving as well. So, if you are looking just for a single iron instead of an entire set, Big Bertha B21 is ideally meant for you which was launched back in 2020.
Most of the Callaway irons are being designed on AI and the same goes for this one as well. In this set, you will get an optimized face cup that provides you with a reasonable ball speed that would let you cover a significant distance. Thankfully, Callaway has worked on its loft that has improved its ball flight and distance also.
To make your sessions meaningful, your launch should be neat and this is where you are lacking. In order to fix it, Callaway has incorporated an improved clubhead in this iron that comes packed with an above-average sweet spot so you won't miss out on any shot. Alongside, it gives a lower spin to make your launch easier.
Not just does it help you in achieving the longer distances, it is optimized for the shorter ones as well. That's due to its workable Center of gravity and it doesn't compromise on precision as such. The ball speed is also pretty easy to maintain with this iron. From forgiveness to launch, everything is there as it was supposed to be.
Pros
A pretty Good iron at forgiving
Easy to launch and inexpensive
Straight & consistent ball flight
Distant coverage with precision
Cons
Control could be much better
Cobra is a well-reputed golf irons brand and we have got you with their Speedzone irons set that is on a completely next level. Speedzone by Cobra was launched back in 2020 and it is packed with a reasonable build and an exceptional performance that you would be loving. So, let's take a closer look at this bad boy.
Just like any other irons set, this one also comes for left and right-hand orientation, from which you can choose as per your style as you are not limited in this department. To be honest, the irons come with very good finishing, but the design of its club head could be much better as it may seem a bit outdated.
Anyways, Cobra is working on the build as well as on the weight of their irons. In these Speed zone irons, you will find it pretty much ultra-lightweight as per Cobra's claims. This way, you are supposed to get an enhanced speed and control. With the PowerShell inserts, you will experience an improved launch and flight.
Along with that, these irons feature a lower center of gravity that also makes them a practical iron in terms of their performance. Other than forgiveness, the control of an iron set is the core thing that makes or breaks your gaming experience. Cobra has also worked on this, and this is why it has very impressive stability.
Pros
An exceptional build quality
Versatile and stable irons set
An enhanced ball speed & control
Best one for an Improved launching
Cons
Design element could be improved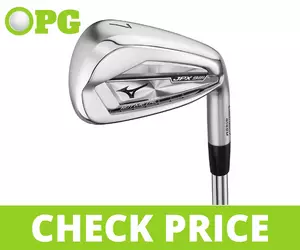 Last but not the least, Mizuno is here to wind up this list of the best forgiving golf irons with their JPX921 which is a launch of 2020. Mizuno has ensured its availability for left and right-handers and you will get steel and graphite shafts also. This is the premium most golf irons set of this mighty list. JPX921 is considered the best Mizuno iron.
Mizuno is focusing on its build quality to provide exceptionally built irons that would last for a lifetime. Considering this in mind, they are using high carbon steel for their shaft and also for the clubhead to make things interesting. On top of it, you will also get stainless steel incorporation to give it a scratchless finish.
To ensure an impactful delivery at your fingertips, Mizuno is incorporating Harmonic impact technology that results in great feedback. For its forgiveness, you would be amazed when it comes to performance as it has a wider sweet spot. Plus, these irons provide futuristic stability so your launch would go safely.
Besides all these things, JPX921 comes packed with a cup face which is designed to get the most out of the power you put for its launching in terms of its speed and distance of course. It results in greater flex and lower lofts for a meaningful ball flight. Considering these things, JPX921 provides great value to money.
Pros
Distant and forgiving irons
Reasonably better launches
Superior ball flights and precision
Nicely finished and durable irons
Cons
Price is a bit on an expensive side
Frequently Asked Questions
What are the most forgiving irons?
Forgiving irons are those that provide a significant consistency at your clubhead to let you move the ball straighter and accurately due to a sweet spot. If you want lucrative forgiveness, make sure your potential iron provides a good distance. For your choice, you should pick from, Mavrik, Mizuno JPX921, or TaylorMade SiM 2 Max. If you want an individual forgiving iron,  Callaway Big Bertha B21 is yours.
Are these irons easier to hit?
Forgiving irons are specifically designed to make your game easy to play and progressive. These irons get a modern design element especially for their clubheads that are oversized yet pretty carefully optimized. They also provide you with an accurate and precise hitting experience so you won't miss out on the target.
Wrapping Up the Best Forgiving Golf Irons
It seems like there is tough competition going in the market for the most forgiving golf clubs. Considering this in mind, picking up the right match would become a challenge for many novice golfers who are looking to get a forgiving set for themselves. To save your time and effort, our editorial has crafted this guide.
All these forgiving irons on the list are ideal for golfers of any skill set or any range of handicaps. With these clubs in your hand, you will eventually see an improvement in consistency and precise hitting. Forgiving irons provide you with an enhanced sweet spot so you would get a lucrative spin and that too with accuracy. With these irons, you will see an increment in the distance.